Another REITs exchange-traded fund will be listed on SGX mainboard on 29 March 2017. Its name is…
NikkoAM-StraitsTrading Asia ex-Japan REIT ETF (SGX: CFA).
Here's a quick guide to bring you through the important points you need to know before jumping in!
1. Objective of Fund
The investment objective of the fund is to replicate as closely as possible, before expenses, the performance of the FTSE EPRA/NAREIT Asia ex-Japan NET Total Return REIT Index. It will adopt the full replication strategy which basically tries to replicate the same weightage as reflected in the actual Index.
Besides that, it targets for an estimated five percent dividend distribution per annum, paid quarterly at the manger's discretion. The manager of the fund is Nikko Asset Management Asia Limited – a well-known fund house you may have heard of. They also run many other funds which include the ABF Singapore Bond Index Fund and Nikko AM Singapore STI ETF.
2. Composition of the Fund
The Fund is mainly concentrated in Singapore (60.5 percent) and Hong Kong (23.0 percent). Other countries include Malaysia, China and Indonesia.
For sector-wise, it is mainly concentrated in Industrial & Office REITs (44.7 percent) and Retail REITs (39.7 percent). The largest constituent is Ascendas REIT with a 10.28-percent weightage. Other powerhouses with huge weightage include CapitaLand Mall Trust, Link REIT and Suntec REIT.
The entire list of constituents is as shown below, taken from their product info sheet.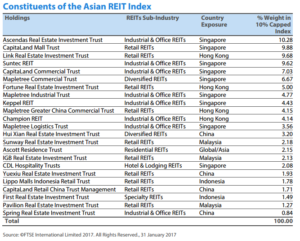 3. Fees & Charges
The fees and charges can be found in their Product Highlight Sheet. But for the benefit of time, you can look at the quick summary below.
1) Management Fee – 0.50 percent per annum of the Deposited (Max 0.70 percent per annum)
2) Trustee Fee – Up to 0.04 percent per annum of the Deposited Property (Max 0.05 percent per annum, subject to a minimum fee of S$15,000 per annum)
3) Custodian fee – Subject to agreement (May amount to or exceed 0.10 percent per annum)
4) Administration fee – 0.04 percent per annum of the Deposited Property (Max 0.05 percent per annum, subject to a minimum fee of S$15,000 per annum)
4. Risks to note
One risky component which I find prominent is its geographical diversification. As the fund is mainly concentrated in the Asia ex-Japan region, a regional shock can potentially bring down your whole portfolio.
To add on, investments of the Fund may not be denominated in SGD so fluctuations of other exchange rates may also affect your returns.
Furthermore, like with all other ETFs, there can be no assurance that the Fund will achieve its investment objective (including your five-percent dividend) or that it will be able to fully track the performance of the Index.
5. Investment Horizon
From its prospectus, it states that "Investments in the Fund are designed to produce returns over the long term and are not suitable for short-term speculation". Therefore, you should only consider jumping into it if you seek medium to long-term capital appreciation.
However, my personal take is that a five-percent dividend yield to lock in your money for the long-term is generally unattractive. There are definitely bigger fishes out there that can bring you better returns.
*AK previously wrote about his take on NikkoAM-StraitsTrading Asia ex-Japan REIT ETF, you might want to give it a read too.
This article originally appeared on Small Cap Asia's blog.

SmallCapAsia.com is a website focused primarily on undervalued gems that can generate Big, Fat Returns for investors. Our Slogan is simple: Start Small, Win Big! Subscribe to our FREE e-newsletter to get a regular dose of investment wisdom not found anywhere!